Turkey Slap Readings
Check out episode 42 of The Melissa Craig & Charity Parkerson Show. Charity and I read our flash fictions. We announce the winners of the writing competition we held.  What competition I hear you say.
We ran a Turkey Slap writing competition. We (the 4Whips) asked for flash fictions 500 to 1000 words,  involving a turkey slap and a sex scene/orgasm and it had to be FUNNY… I know blush… I was after reading my story…
This book can be downloaded for free on smashwords. The cover was drawn by awesome friend and fellow Australian author Dionne Lister. Love the turkey in an erotic outfit. Dionne is also an editor and edited our book at no cost.  So thank you Dionne for all the time and effort you put into this book.
But it all wouldn't be possible without 'Punk & Sissy Publications' owned by my co-host Charity Parkerson. So make sure you go and download our book and listen to our erotic flash fictions.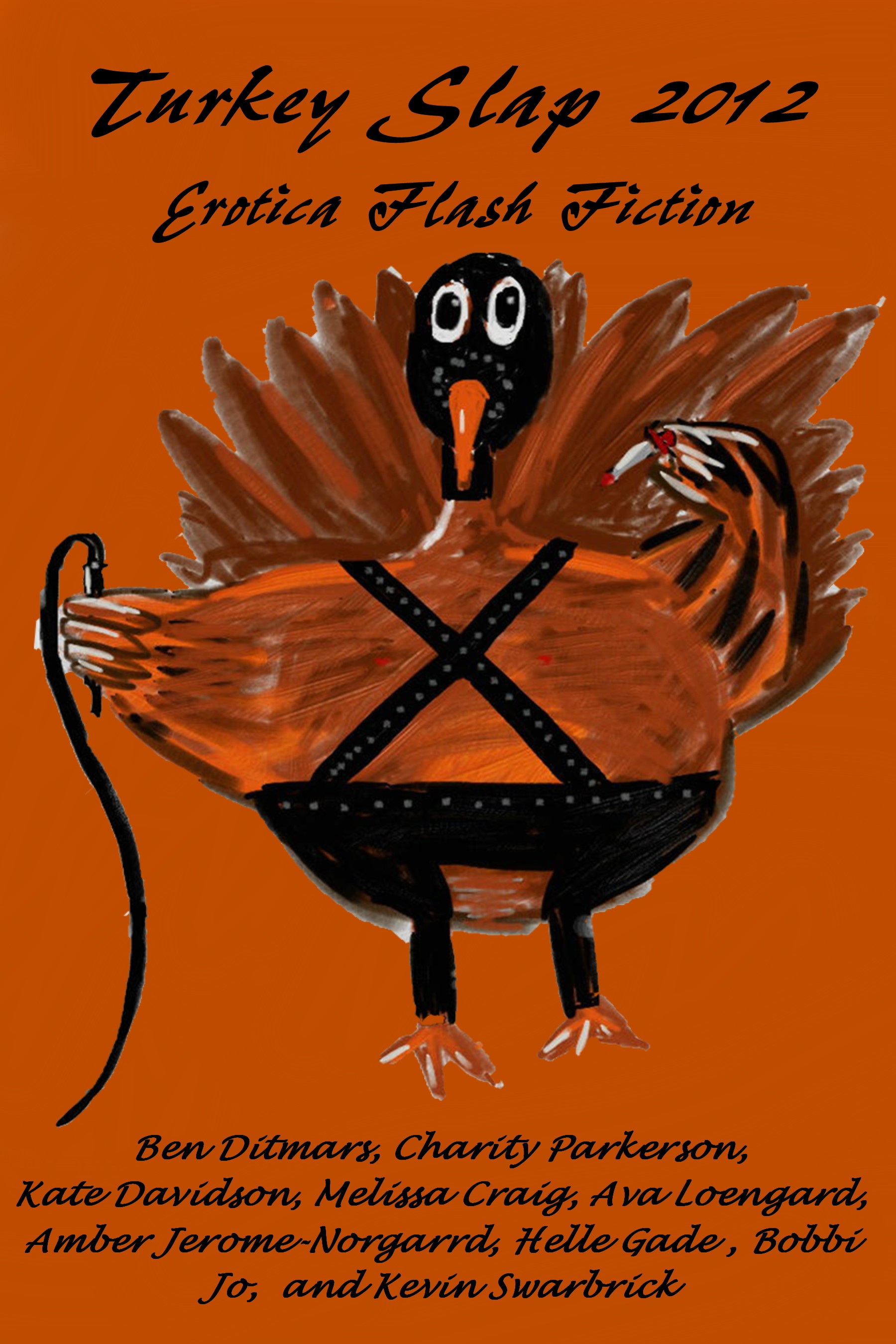 https://www.smashwords.com/books/view/250379
Turkey Slap Description
The Four Whips, otherwise known as Melissa Craig, Dionne Lister, Amber Norgarrd, and Charity Parkerson present Turkey Slap 2012. Turkey Slap: The act of playfully slapping someone with an erect or semi-erect penis.  Entries were collected for erotic short stories containing a Turkey Slap and the best of those stories were added to this free book for our reader's pleasure.
Please enjoy and then check out each author's additional work online.
Book 1- The Festival of Turkey Slap by Ben Ditmars
Book 2- Top Cock by Charity Parkerson
Book 3-  Jenga by Kate Davidson
Book 4- by Melissa Craig
Book 5- by Ava Loengard
Book 6- Birthday Blowjob by Amber Jerome-Norgarrd
Book 7- Top Hat and Turkey Slap by Helle Gade
Book 8- by Bobbi Jo
Book 9- by Kevin Swarbrick
Now listen to our podcast.
This was just Charity and Melissa talking yes explicit. The Turkey Slap winners announced and both Melissa and Charity read aloud from the book. Naughty Corner, Superhot men, Cream and so much more. Todays music was provided by Atomic Honey. Grab the free Turkey Slap Erotic Flash Fiction on Smashwords.
Enjoy it any way you can!
One response